Posted on April 6, 2018 by andre
Western Leathercraft's Opening Hours have changed. We are open a little later on Thursdays for late night trading, closed on Monday, and on Wednesdays we now close at 4pm. From about 5pm on Wednesdays you should be able to find us running a stall at LARP Training on Sutherlands Park in Huntingdale/Gosnells.
Monday CLOSED
Tuesday 10am to 5pm
Wednesday 10am to 4pm
Thursday 10am to 7pm
Friday 10am to 5pm
Saturday 10am to 3pm
Sundays CLOSED
Public Holidays CLOSED
---
Posted on January 7, 2018 by andre
After our successful experiment with running leathercraft classes in December last year at the Perth Artifactory, introductory leathercraft classes are a regular feature of our 2018 calendar. You can buy tickets for our Saturday Beginners' Classes here.
---
Posted on September 3, 2017 by andre
When Gondor calls, are you ready to come to their aid? What better way to be prepared than to equip yourself with these fine Warriors Bracers and Archers Bracers, all adorned with the emblem of the White Tree, the symbol of Gondor.  All available to order from our Etsy Store.
---
Posted on June 6, 2017 by andre
This week sees the release of the next range of hand-made leather armour – historically themed leather bracers. The first from this range are three types of Greek-styled bracers inspired by the black-figure pottery of the first millennium BC.
You can find them at our Etsy Store.
---
Posted on May 21, 2017 by andre
Had a great time today at the Wundowie Iron Festival, even if it was a bit windy. The rain cleared up by lunchtime for the most part. The Circle of the Sword and the WA Bezerkers (the WA side of the Historical Medieval Battles Scene) put on a great performance of longsword and melee battles respectively.
---
Posted on May 17, 2017 by andre
Western Leathercraft now has an Etsy Store called "WestLeatherCraft".
It features items hand-made in the Store – some of which are ready t o post and others can be made to order.
Our range will expand each month as new designs are created.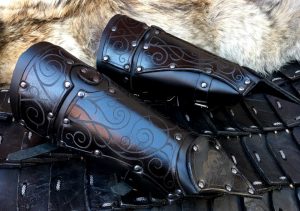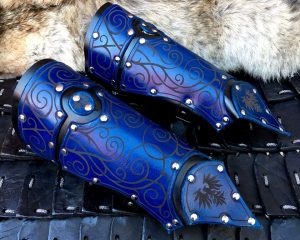 ---
Posted on May 17, 2017 by andre
This year Western Leathercraft has been getting back into running stalls.
We've run stalls at The Madman Anime Festival, The Willetton Faire and The Moondyne Festival and at several events for the Society for Creative Anachronism and Perth LARP.
This weekend we'll be at the Wundowie Iron Festival.  And in June, we'll be at Supanova, running a small craft stall in Creator's Alley.
---
Posted on September 25, 2015 by andre
Armadale's annual Highland Gathering was a blast again on September 13th at Minnawarra Park. Though a little wet from the previous week's rain, it was blessedly rain-free on the day and there were kilts a plenty to be seen when the particpants in the Kilt Run went flying by. The SCA and Grey Company (see below) provided wonderful entertainment and there was caber tossing, stone lifting, folk music and Scottish dancing as well.   Western Leathercraft ran a stall at the Highland Gathering for the sixth year in a row.
Photos courtesy of Gaynor.
---
Posted on September 23, 2015 by andre
Back in 2010 I went to the Dimensions in Leather Convention in Queensland and one of the courses I took there was a Commedia dell'Arte mask making. In 2012, I tried my hand at making a mask using a simple plastic craft mask as a last. This is how it turned out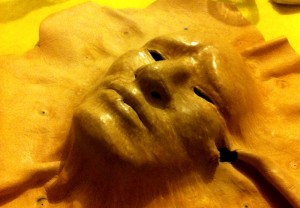 And here's how it was made: Mask Making
---
Posted on September 21, 2015 by andre
This year, the York Medieval Faire will be held on October 25th. The Faire will be split between two locations – with the Medieval Tournaments, Displays and Vendors being on the area along the river, behind the newly refurbished Coffee Carriage, adjacent to Avon Park. Public entry is still only $5 and kids free, with proceeds again for the homeless ($5,000 was raised last year). General market vendors will be at Peace Park, where they were last year.
The Medieval Parade will be at 1.30pm and there will be knights and various combatants, including LARPers fighting all day in the arena.
Here's some pictures from last year's faire:
---