Posted on July 11, 2022 by andre
As of today, we no longer stock or supply leathercraft tools and leather. Nor do we stock any medieval or LARP items for online sales.
To buy our medieval stock, catch us at our market stall at any of the medieval or Highland festivals around the Perth Metro Area. We normally advertise these on our Facebook page. We also turn up at select LARP camping weekends.
For Leathercraft supplies, we recommend Leather Direct in Osborne Park.
Class tickets for our final year of leathercraft classes can be bought from ClassBento.
---
Posted on May 19, 2022 by andre
As of this week, we have shifted most of our Class Sales over to ClassBento because they're easier to organise and they handle our promotion. So please go there to find and buy our Leathercraft Class tickets. The Summer of 2022/23 will likely be our Leathercrafting season.

Of course, you can still buy our Season Tickets here on our original site.
---
Posted on December 18, 2019 by andre
Looking for a last minute hand-crafted leather product for Christmas? We have a few that are already made up and just waiting to be packed into a box and sent out to you. Peruse our "Quick Buy" section on Etsy.
---
Posted on December 17, 2019 by andre
You may be able to tell that one of favourite dyes here at Western Leathercraft is the Antique Whisky Acrylic Dye. We're happy to announce that we're stocking it again! Its available both on our Etsy Shop and directly from our website here.
---
Posted on November 28, 2019 by andre
This November, we're happy to present for you a new range of leather blanks or cut outs at our Etsy Store. Featuring bookmarks, gum leaves and a range of hair barettes.
Leather bookmarks just waiting to be embossed


---
Posted on November 7, 2019 by andre
Western Leathercraft has reopened its Etsy Store after taking a break. We're ready to start taking commissions again!
---
Posted on October 17, 2019 by andre
In August 2019,  we were forced to close our store in Lord Street due to a huge downturn in business in the first half of the year, ending our days as a craft supplies store.
But Western Leathercraft is not dead! We now continue in a smaller capacity – running Leathercraft Classes, Market Stalls and selling online at this website and on Etsy.
Our first run of new Leathercraft Classes are going up onto the website today! And you can find them here.
---
Posted on August 8, 2019 by andre
With regret we must notify you that Western Leathecraft will be ceasing business on Sunday August 18th.

We will be running a closing down sale from Tuesday 13th to Saturday 17th of August. Everything in the store will be 50% off.
---
Posted on May 11, 2019 by andre
Don't forget to get to the polling booth before you head on down to the Boddington Medieval Fayre!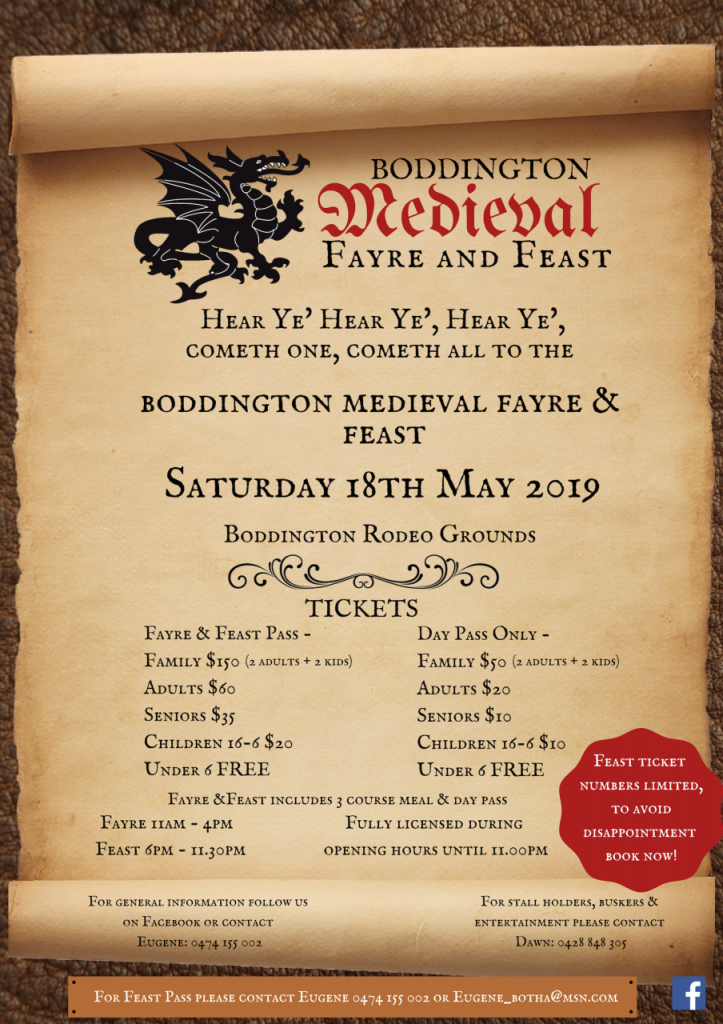 ---
Posted on May 11, 2019 by andre
Over 60 mostly old and discontinued craft stamps from Tandy Leathercraft and Midas.
Single Stamps $9.00 each. 
10 Stamps for $75 
20 Stamps for $130 
Postage rates: 
Australia
1-10 stamps $9.00
11-25 stamps $13.00
USA
1-10 stamps $30
11-25 stamps $43
Other International Rates: Please email us.
(All prices are in Australian Dollars).
---